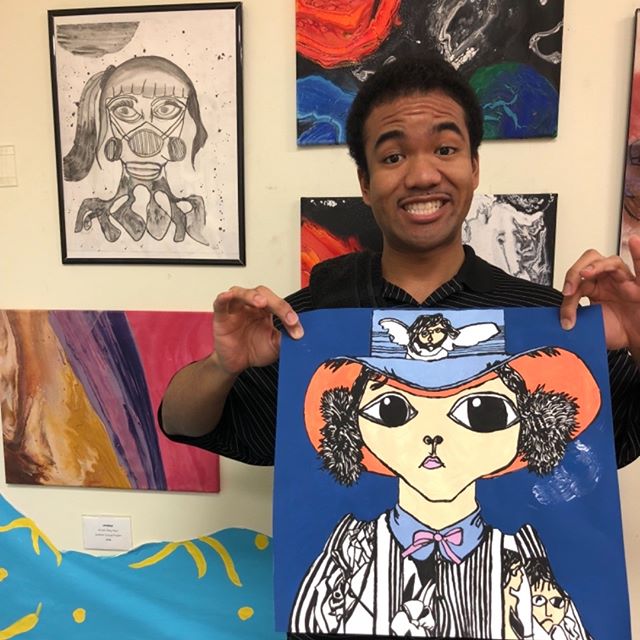 We provide five branches of Recreation opportunities: Dance, Fine Arts, Music, Health & Fitness, and Socialization Activities. We encourage participants to step out of their comfort zone and try things they haven't done before. They are able to express themselves and participate in these programs while strengthening social skills with peers and staff.
Performance and Fine Art represent a valuable means of expression and participation for all members of the community. While these artistic opportunities may be difficult to access for individuals who have intellectual disabilities, the participants of One Step Beyond enjoy a robust variety of options.
Arts and Ceramics Studios, supported by the Arizona Commission on the Arts, complete with access to professional kilns at the Surprise, Glendale, and San Carlos campuses. Class opportunities include drawing, painting, ceramics, and pottery. We participate in exhibitions year-round at various galleries throughout the communities. Artists are also invited to showcase their art at our yearly art show and showcase events. We are currently showing and selling original artwork at Art One Galleries in Scottsdale AZ, Sunsational Coffee in Surprise AZ, and The Helpers Artisan Boutique in San Fransisco CA. Our original ever-changing collections along with multiple printwork options are always available in our OSBI Online Store. The artists are compensated for their artworks as we aim to represent and provide fair and equal compensation in the art world by setting an example of inclusivity. The Fine Arts Program offers five different courses to further creative ability. Intro to Art is for beginners who want to work with all fine art mediums. Studio Art focuses on learning techniques for all mediums in a step-by-step manner. Independent Art is a self-directed course for members to explore their individual styles. 2D Art is for drawers and painters to refine their techniques. Our final course is 3D Art, which allows members to create 3D pieces using clay, paper-mâché,

and recycled materials.
Fully equipped Music Studios at every location provide daily classes in instrument training as well as music production. 

Our Music Program provides six courses:

Percussion,

 

Ukulele Sounds

 

Guitar, Karaoke,

 

Intro to Music,

which allows members to learn different components of multiple instruments and sounds at a beginning level.

Abilities United Music Festival Band

focuses on composing an original song of their own. Students will learn to play drums, percussion, guitar, keyboard, and sing together as a band. The bands in this course perform their original song at our annual Abilities United Music Festival in front of their family, friends, and community!

A Dance Program, supported by the Molly Lawson Foundation and the Arizona Sports and Tourism Authority. Opportunities include daily and weekly dance classes and Yoga. Our non-dance recital courses include Beginning Dance, Pom/Cheer, Yoga, and Zumba. Whereas our dance recital courses include Hip-Hop, Ballet, Contemporary, Ballroom, Tap, and Jazz/Musical Theater. The Dance Program also offers unique performance opportunities at our annual dance recital and at various community and sporting events throughout the year.
Seasonal Theater classes and performance opportunities through a partnership with Peoria Center for the Performing Arts, also known as TheaterWorks, and the City of Peoria. This partnership enables our organization to offer a joint theater program for adults with and without disabilities creating a truly inclusive environment.
For additional information about One Step Beyond's Performing and Fine Arts Programs, contact Samantha Swanson, Glendale & Surprise Campus Recreation and Arts Director.