Performance and Fine Art represent a valuable means of expression and participation for all members of the community. While these artistic opportunities may be difficult to access for individuals who have intellectual disabilities, the participants of One Step Beyond enjoy a robust daily schedule that includes: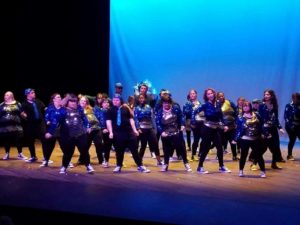 A Dance Program, supported by the Molly Lawson Foundation and the Arizona Sports and Tourism Authority. Opportunities include daily and weekly dance classes, yoga, group fitness classes, karate, and cheer. This program also offers unique performance opportunities at our annual dance recital and at various community and sporting events throughout the year.
An Arts and Ceramics Studio, supported by the Arizona Commission on the Arts, complete with access to a professional kiln at both Arizona campuses. Class opportunities include drawing, painting, pottery, and crafts with exhibitions year-round at various galleries throughout the Valley. Students are also invited to showcase their art at our yearly art show and showcase events.
A fully equipped Music Studio with daily classes in vocal and instrument training as well as music production and weekly karaoke. Performance opportunities are offered at the Abilities United Music Festival, an annual music festival held in the Spring. For dates and additional information on upcoming performances from our Music Program and band titled, The Heart Strings contact the Recreation Supervisor.
Seasonal drama classes and performance opportunities through a partnership with Peoria Center for the Performing Arts, also known as TheaterWorks, and the City of Peoria. This partnership enables our organization to offer a joint theater program for adults with and without disabilities creating a truly inclusive environment.
For additional information about One Step Beyond's Performing and Fine Arts Programs, contact Olivia Haddad, Arrowhead/Creekside Campus Recreation and Arts Supervisor or Samantha Swanson, Surprise Campus Recreation and Arts Supervisor.