The OSBI Culinary Program is a dynamic program that focuses on two main areas:
The Life Skills Culinary Program and The Catering Program.
On-Campus Culinary Menu – January 2022
For Arizona Catering information, contact Becca Mungovan, AZ Culinary Program Director at CulinaryandCatering@osbi.org
Let OSBI caterer your upcoming events!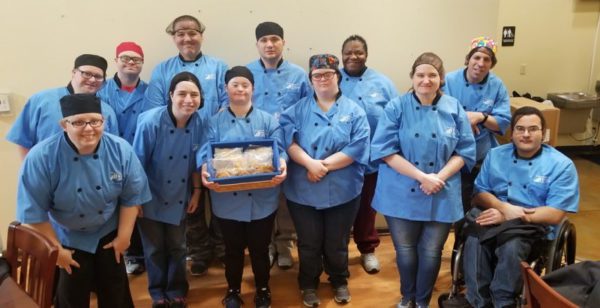 Life Skills Culinary Program

teaches our students to work in a homestyle kitchen to learn the necessary cooking skills needed for independent living or progression into One Step Beyond's Catering Program.
Participants in the Life-Skills Culinary Program participate in the planning and preparation of several internal catering events throughout the year. This supplements the classroom training members receive that center around event planning and provide opportunities for participants to gain the skills needed to advance to the Group Supported Employment Culinary Program. These events include monthly leadership lunches, hors d'oeuvre and appetizers for onsite parent meetings, and internal events throughout the year.
The Life Skills Culinary Program curriculum is taught using a five-block system:
Safety and Sanitation (Block One)
Coursework includes lessons on personal hygiene, proper kitchen attire, proper usage of equipment, kitchen safety and sanitation, and food safety. During this block participants obtain a food handlers card.
Plan Healthy Food Choices (Block Two)
Coursework includes lessons on the food groups, teaching a variety of different foods and special eating plans, how to create and use shopping lists, how to use recipes and food labels, and how to reduce caloric intake in meals and snacks.
Kitchen Discovery (Block Three)
Coursework includes lessons on how to organize kitchen tools and equipment, how to read and use a recipe, appropriate knife selection, and handling, and how to use kitchen equipment.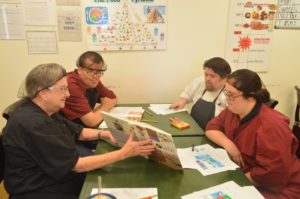 Customer Service (Block Four)
Coursework includes the importance of customer service, how to greet a customer, how to properly set and clear a table, how to pour liquids at a table, identifying different meal services, and proper mealtime behaviors.
Technique and Timing Skills (Block Five)
Coursework includes hands-on lessons learning how to bake, braise, grill, poach, stew, roast, and sauté meals.
The Catering Program
provides group supported employment job training opportunities which include internal catering requests made through the One Step Beyond Catering Company at CulinaryandCatering@OSBI.org or our Food Truck & Hot Dog Cart. Participants also receive support and assistance to procure food-service employment external to One Step Beyond, Inc.
The GSE Curriculum includes: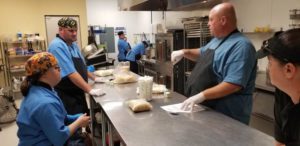 Restaurant Positions
Members select one of five restaurant positions (Host, Server Assistant, Front Wait (Server), Prep Cook/Dishwasher, and Cook)
Time Studies
Participants conduct bi-annual time studies based on their chosen job position to measure their individual progress. Wage increases are calculated based on individual time studies.
Catering Jobs
Participants actively participate in the preparation for regular weekly catering events, public and private events as they are booked through the One Step Beyond Catering Company, and internal events as they are scheduled throughout the year.
Additional day-to-day operations:
Lunch Preparation: All Group Supported Employment Participants assist in the daily preparation and delivery of our Arrowhead Creekside lunch service
Proprietary Preparation: Participants prepare, inventory, and deliver proprietary items to local businesses that resell One Step Beyond Proprietary Products.
Regular Catering: Participants prepare and deliver regular weekly caterings for local service organizations and businesses that utilize our Catering Services.