Welcome to NNS!
One Step Beyond, Inc. has been providing dynamic programs to individuals who have intellectual or developmental disabilities (IDD) for almost 20 years. Nikki's Next Step is our eagerly-anticipated expansion into housing. The $15 million condominium community will provide safe, supportive, and affordable residences for 40 adults who have IDD. It will be developed as one- and two-bedroom for-sale units, with a large Great Room for socializing and communal dining, an outdoor green space, and amenities that foster friendships and well-being. We are actively searching for land.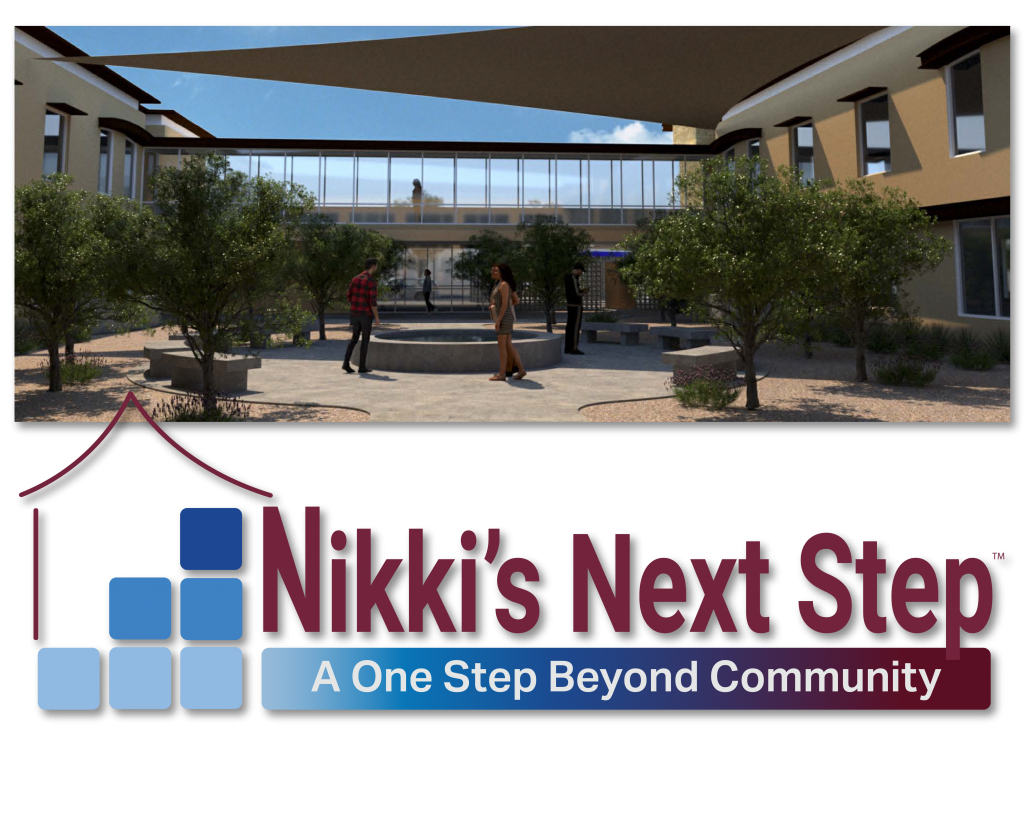 The Need
There were 159,593 people who have IDD in the State of Arizona as of June 30, 2018. Of that total, 40,424 were 18 years of age or older and not living in congregate settings. More significantly, only 276 Arizona adults who have IDD and received Medicaid HCBS waiver-funded Long-Term Supports and Services (LTSS) lived in a home of their own. Arizona is the worst state in the nation in the percentage of individuals who have IDD receiving LTSS who still live with a family member at 88 percent1. Twenty-six (26%) percent of Arizona individuals with IDD of any age are living with and being supported by family caregivers aged 60 and older as of fiscal year 2019.
Nikki's Story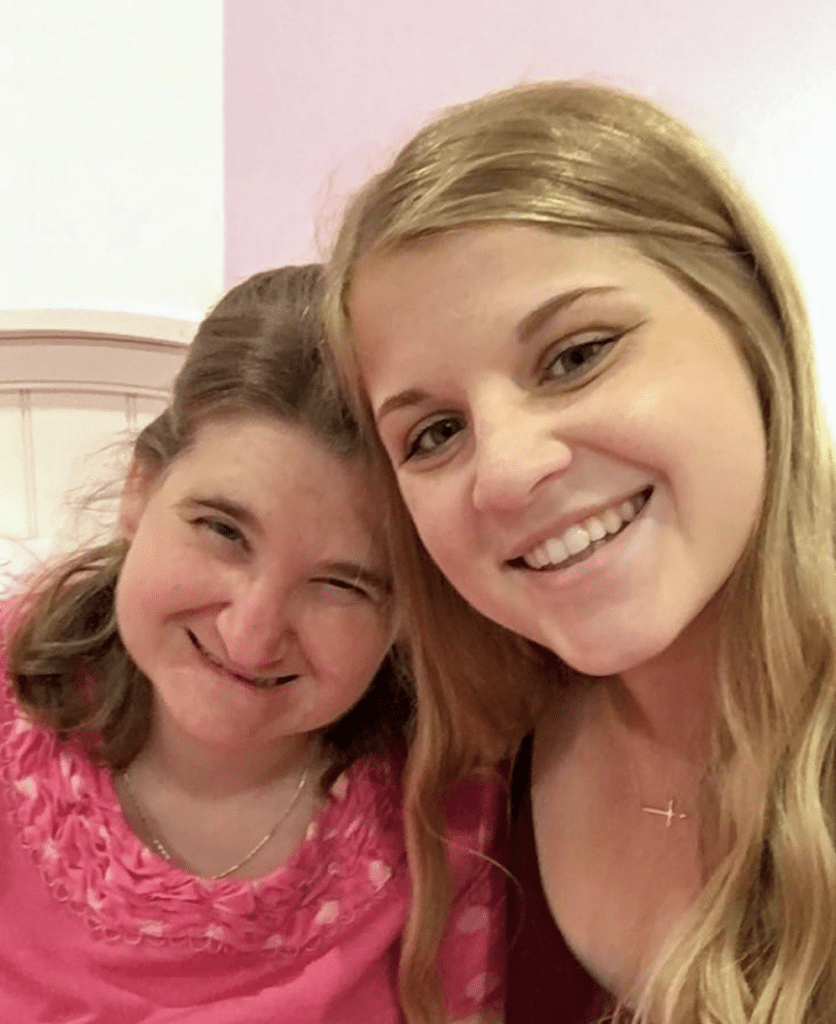 Nikki was a young woman who did not have disabilities but who passed away from cancer way too young. Nikki was a best friend to Carrie, a One Step Beyond participant, since our early beginnings. Nikki and Carrie grew up together, and spending time with Carrie was a joy for Nikki. Nikki wanted the same opportunities for Carrie that she enjoyed. As a devoted OSBI Volunteer, she never missed an opportunity to support and encourage Carrie and her OSBI friends and they loved being with her. We can't measure the value of a life by years. The true value of a life is measured by the difference we make, by the impact we have on those around us, whether our time here is long or short. Nikki's life, her open and loving heart, generous spirit, acts of kindness, quiet strength, and unconditional acceptance of each of us, just the way we are, is the core of her legacy that will create generational opportunities for people who have intellectual or developmental disabilities. Nikki saw Carrie and her friends not as persons who have disabilities but as persons with abilities and gifts to contribute to all of us. Nikki is still with us in spirit and this Next Step of independence for Carrie and others at OSBI is something Nikki would have actively supported. Her name on this Residential Setting honors her love, spirit, and contribution to our lives.

Conceptual Rendering
The final design will be based on the size and shape of the land parcel we acquire, but this conceptual rendering illustrates some of the features we have in mind including a secure entrance/exit, a shaded outdoor courtyard, two levels of residences, a Great Room for dining and socializing, and parking designed to reduce headlight glare into ground-floor residences.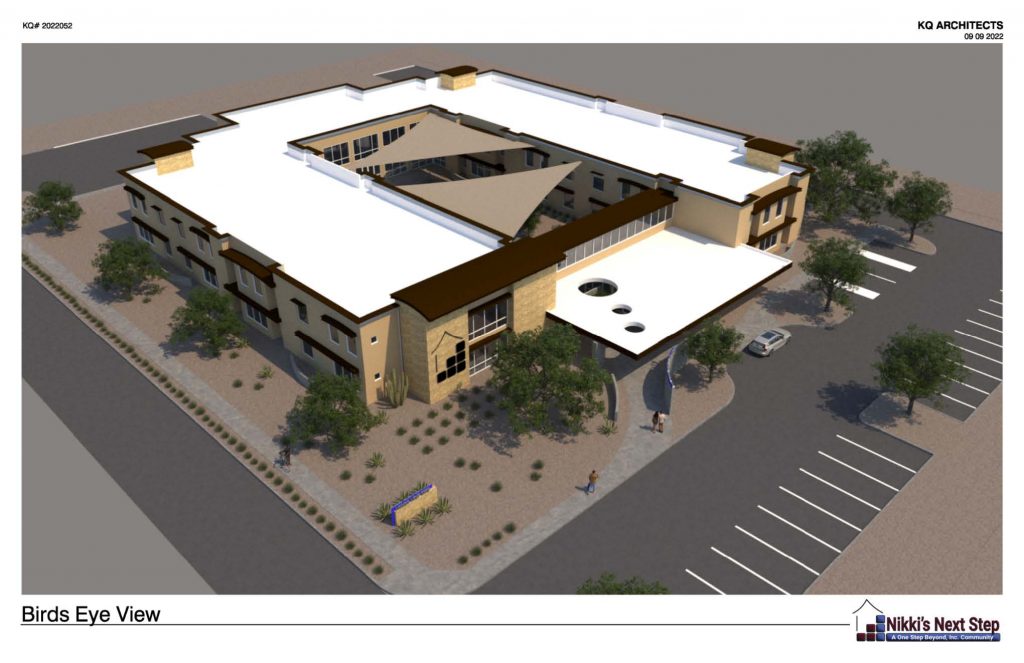 How You Can Help
Imagine this. You are driving down the road with your family or friends and you drive by a community that you helped to build and say to them, "I was a part of building that community, that's Nikki's Next Step!"
Here is how you can help * Land. We are searching for 2.5-3.0 acres in Peoria, Glendale, or Phoenix. If you have land or know of people who might, please contact Madison at madisonblanton@osbi.org.
* Donate. Please consider a contribution to help us acquire our land and build Nikki's Next Step. DONATE today by clicking here.
STAY IN STEP with NNS!
Families who are interested in this type of housing for their son or daughter are invited to add their name and email to our Interest List to receive our announcements and to receive information about our residential community when we have it ready to disclose. By adding your name, phone, and email address below you only are joining a list of people who have agreed to receive notifications from OSBI via email about announcements and information about our project. THIS IS NOT A WAITLIST or PRIORITY LIST! We have established this Interest List because it is helpful to OSBI to get a sense of how many families have an interest in the housing we are developing, and we want to make sure that we get that information to everyone who wants it!
Keep Me Informed – Residential
Keep me updated regarding progress on the residential project, Nikki's Next Step!
In-Home and Residential Long-Term Supports and Services (LTSS) for Persons with Intellectual or Developmental Disabilities: Status and Trends Through 2018 report produced by the Residential Information Systems Project (RISP) of the University of Minnesota
State of the States in Intellectual and Developmental Disabilities through 2019 report produced by the Kansas University Center for Developmental Disabilities|Lifespan Institute. https://stateofthestates.org/state-profiles/